Aegon Religare has come up with a new Unit Linked Insurance Policy called iMaximize. This policy comes without any premium allocation charges. That makes iMaximize a unique and thus the most cost efficient insurance plans. For those who look for both insurance and investment opportunity in a single plan, this plan stands out of the rest because of its key features. As always, Aegon Religare is offering this plan through online mode which adds to the convenience of its customers.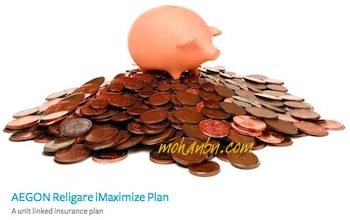 On the outlook this seem to be a great ULIP with very low level of overall charges. If you are considering an investment plan with insurance as add on, this is one of the best options available in the current market. Let us take a look at some of the key features of Aegon Religare iMaximize plan:
ZERO premium allocation charges – full premium money will be invested
Upfront information about the mortality rates and fund management charges which remain constant throughout the policy tenure
Choice of two death benefits for policies under regular premium
Top-ups do not attract any premium allocation charges as well
Special units get added from the 12th year onwards till the maturity of the policy – Units equal to 0.45% of the average fund value in the last 12 months get added.
Choice of two investment strategies depending on policy holders preference
Policy can be bought online – similar to iTerm, a term insurance plan by Aegon Religare.
Benefits offered through Aegon Religare iMaximize Plan:
Maturity Benefit – The policy holder would get the fund value of the iMaximize Plan.
Income Tax Benefit – Life Insurance premiums paid up to Rs.1,00,000 are allowed as a deduction from the taxable income each year under section 80C. The maturity amount you receive from this plan are exempt from tax u/s 10(10D)
Investment Strategies – iMaximize Plan has 2 options – one can change the strategy at any point of the policy term.

Trigger Portfolio Strategy – here premiums are invested in the accelerator fund (which is an aggressive equity oriented fund) & as soon as the fund value equals 110% of the premium paid till date, the extra amount is moved to the secure fund (which is a conservative debt oriented fund). Due to this strategy, one can participate in aggressive fund and secure any surplus generated by it.
Self Managed Portfolio Strategy – In this you choose between the 3 funds which are available – Secure Fund, Stable Fund & Accelerator Fund.

Topup – Policy holder can add any amount to existing funds at any time after the 1st policy year and before the last 5 policy years. The minimum amount of topup should be Rs.10,000.
Switching – There exists a flexibility to switch investments from one fund to the other any time during the policy term. There are 4 free switches in each policy year.
Premium Redirection – The plan comes with a facility to redirect all future premiums to the funds of policy holder's choice.
Partial Withdrawal – Policy holder's are allowed to make partial withdrawals after completing 5 years. But the limit to withdraw is only 20% of the fund value at the beginning of that policy year.
Illustration of benefits with example:
Triple Protection: Mr. X is 45 years Old and has a wife and a daughter aged 10 years. He took AEGON Religare iMaximize Plan with triple protection which offers Sum assured + Family Income Benefit + Premium Continuance Benefit. Premium paid by Mr. X is Rs. 50,000 per annum and policy term is 20 years with Sum Assured of Rs.15 lakhs. Unfortunately at the end of the 3rd year Mr. X dies due to heart attack. What does Mr. X's nominee get?
Mr. X's nominee gets all of the below:
Sum assured of Rs. 15 lakhs immediately + Rs. 50,000 as payout for Family income benefit per year for the next 17 years +
The policy will continue as usual and Aegon Religare will pay premium of Rs. 50,000 on behalf of Mr. X for the next 17 years. At maturity Mr. X's nominee will receive the fund value as on the maturity date.
Profit Booking: Mr. X invests Rs. 50,000 as annual premium and chose Trigger portfolio strategy to manage his finds. Lets say in 8 months time the fund manager manages to earn him a good return and his fund value reaches 55,000. Now this additional Rs. 5,000 (which is 10% of his invested amount) will be shifted to Secure fund so that his gains are secured and the capital of 50,000 will remain invested in the market to generate more returns. This check is carried out on a daily basis to ensure that Mr. X's gains from the fund are secure, giving him complete peace of mind.
Complete information on iMaximize ULIP and related documentation can be found here on the Aegon Religare Life Insurance website. The details provided above are derived out of the policy document available on their site as on the publishing date of this article.