After my previous reviews on various small cars, next in the series is Chevrolet Spark. Television commercial of this car prompted me to test drive the same. I am referring to an ad which promised its customers of '3 years without any service costs'. I took an appointment to test drive this chevy spark car recently when the maker of this car General Motors(GM) was busy filing bankruptcy back in USA. Don't worry about that news as this is what its Indian subsidiary has to say on the whole story…
GM India has announced that it continues all its normal operations and is not included in the court reinvention process of GM's US operations. GM India operations are not included in the US filing for Chapter 11. Consequently, all GM India dealers, warranty and customer support services will remain unaffected.
With that assurance from GM India, let me share my views on Chevrolet Spark LT. The Spark has funky and youthful styling external looks if not as good as the Hyundai i10/i20 or Maruti A-Star. For me it looked like a make over of Daewoo Matiz! Circular tail lamps catch you attention at the back. It looks cute though if not great when compared to other cars in the hatch back segment. The body build quality seem to be pretty strong.
Interiors : The car looks small from outside but it has generous space in the cabin. I personally didn't like the all dark plastics inside this car, which gave a kind of dull look.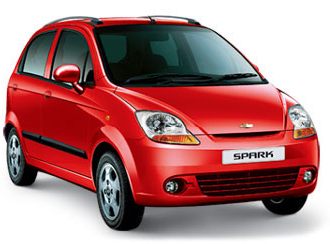 The  steering wheel and the center mounted instrument panel make up for the rest of the design flaws. It wouldn't be easy to get used to the speedo meter and the other display lights. The driving posture is good enough but not as good as my Santro Xing, couldn't get to check if the seat can be adjusted vertically. I could feel my left thigh getting brushed against the central instrument mount. This could be a major let down if you are going on a long drive. Apart from that various switches are placed within easy reach, not happy with the quality of the material though. Boot space is certainly a big disappointment. My strong feel is that it can be a good car for 4 adults when it comes to seating comfort. It could prove to be highly uncomfortable for 5 adults with the kind of small leg space for the rear seat.
Engine, Ride and Performance : All the spark models come with a 1000 cc (1 ltr) engine which can deliver 63 bhp. Since the body weight is around 850 kilos, the power should be sufficient enough to pull 4 adults. The car was noiseless under idling conditions. Pick up of the engine is good and I felt happy with the kind of response upon acceleration. It was very easy to handle the ride with the power steering. The gear shifts were smooth and precise. The only irritating thing I could notice is that you cannot reverse with half clutch. If the wheels are turned fully, you need to slightly press the accelerator to get the vehicle moving. I assume it is due to the low turning radius. However, this low radius makes parking much easier in congested parking areas. I am happy with the ride and handling.
Mileage, Price and Warranty: Chevrolet has certified the Spark engine with a mileage of 12.5 kms in city while 16.7 kms on highways. Spark has been recently released with a model that can run on LPG. I have no information about the mileage of LPG model. Ex-Showroom price of the Spark can cost you between 3.2 lakhs for a low end model to 4.2 lakhs for an high end LT model with airbags. Price of LPG model is not available on their site, you may have to call up their support to know more details. As far as 3 years no service cost promise is concerned, one has to purchase the extended warranty on the car. Just that they don't say it the ad and compromise that with a standard *. It is a well known fact that there is nothing called free lunch in this world :). You do have to buy this premier warranty contract  by paying 13K, with this they will cover all the maintenance and service costs.
My final suggestion for you is to test drive the car and compare the cost and comfort with other players in this segment before making up your mind. You may want to think about A-Star, Xing, Wagon R etc., if cost is the constraint. If you can afford to spend a little bit more, think about Maruti Swift, Ritz or Tata Indica Vista or Hyundai i10.