Facebook has started to dig its own database of users to show what they were up to a year back on a given calendar day. I noticed this new feature on my facebook page yesterday. Must say that the idea is very nice to keep the users glued to facebook for longer durations. As far as I know, this is the very first attempt by Facebook to show an user's content to self than showing content from friends in network. There was another facebook app called 'My year in status' which did almost the same, but this time it is more official I suppose!
Here is a snapshot of 2 such messages I saw, these were the status updates by me on facebook wall the eve of Indian Independence Day 2010. I was on a one day trip to Mumbai to participate in IndiBlogger's meet: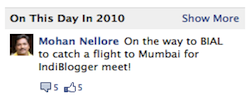 Definitely this is a good move to make the users spend more time on their site as if everybody is already killing very little time there! By the way, Indiblogger just turned 4 years yesterday. Happy Birthday IndiBlogger! I have got lot more readers on my blog ever since I am on this blogger community. If you aren't there yet, get on board 🙂
I haven't been that regular on my blog for sometime now. Trying to get back in to the blogging mode with short posts like this, pardon me for that. Certainly have a lot of things to write about, especially some of the travelogues ranging from Wayanad (Kerala), Shirdi (Maharashtra), Jaipur (Rajasthan) and many more! Stay tuned, you will get to read more often here.