Nature and its beauty is something that captivates our memory for life time. Human mind always recall those fantabulous moments when the nature is associated with few very special occasions. May it be green rich Amazon rainforest or tropical African grasslands, from the great Himalayas to driest Atacama desserts, every place has its own charm. Our quest to reach out to each of the beauty associated with nature is never ending. This post is all about the so called 'Niagara of India' aka Hogenakkal water falls which is about 130 kms from Bangalore. Thought it is such a nearby place, never been to this place before and we had a reason to visit this time!
Since some of our team mates are about to bid a bye to Yahoo! and join Microsoft as a part of search alliance, we chose to bid farewell to them in an unique way. The outcome of that thought process is the visit to Hogenakkal water falls on River Kaveri. Though we were just four to visit the place, it included 2 repeated visitors who had visited few years back. We chose to travel by Ford Figo 1.2 disel variant by starting early on a saturday morning. If you follow any online map, the chances are more likely that you may end up travelling longer distance. We took the route via Hosur, Denkanikottai and Anchetty through which the roads are pretty good except few small stretches spread over not more than 15 kms. I can strongly recommend this route for travel by bike as well as car.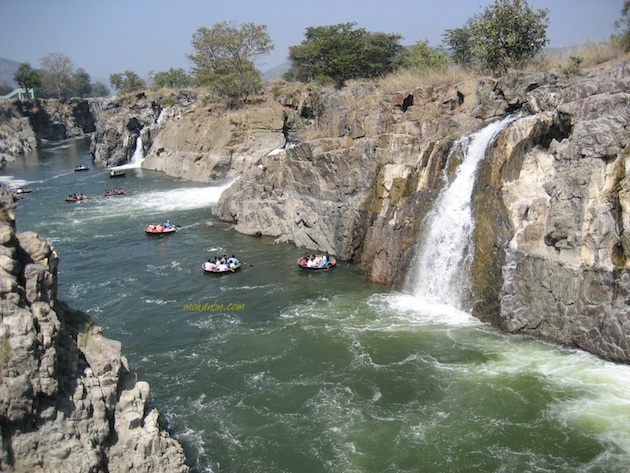 Up on reaching the venue, we hired a coracle boat at the cost of 200 per head (800 for 4 of us). No receipts for this what so ever! Though there were few officials, the counter which sells the boat tickets was closed! The officials didn't even bother to enforce wearing of life jackets by the tourists who hired coracles. Safety precautions have to be taken up voluntarily by the visitors. We requested for life jackets and they did provide us without insisting on the proper way of wearing them. Nobody cares here for the lives unless you demand for the safety measures on your own. Keeping aside this safety flaw, rest all is awesome! Multiple water falls across this place is just a great sight. When the tiny water particles flying in the air hit our body, the feel is so refreshing!! You just have to experience it to believe. Water looks all smokey when flowing through precipice and hence no wonder the name 'Smoking Rocks'.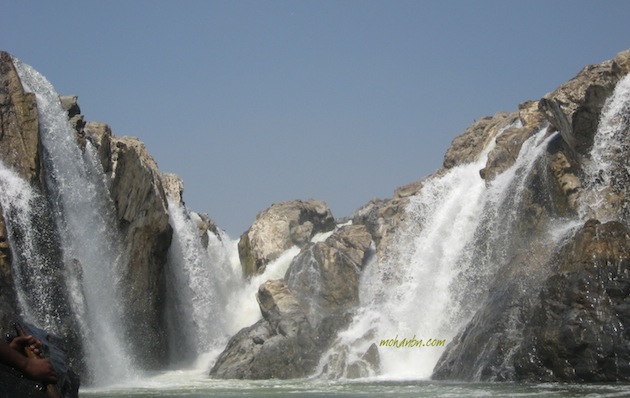 Coracle boat ride was for almost 2 hours and we enjoyed every bit of it. Moving close to multiple water falls through carbonatite rocky terrain is an absolute feast for eyes. Astonishing sound of the falls due to sheer force of the water just re-iterates the power of nature. Though the water level was neither too high nor low, I would say it was more than enough to make our minds to revisit this place!
Our purpose of bidding farewell to our colleagues through this unique way will sure be remembered for a life time! And this post is also my entry for the 'Cleartrip My Purpose' contest on indiblogger. If I get to win this contest, another travelogue on the cards for sure 🙂