Dear All, it gives an immense happiness to inform you that I have been chosen as the "IndiBlogger of the Month". It is indeed a great honor in the blogosphere to have won that title at indiblogger community, which has over 20,000 registered bloggers across India. Thanks for all your continued readership and encouragement which made me achieve this feet. Special thanks to those who voted me for the title at IndiBlogger.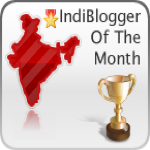 Well, it all started last year around this time when I joined this bloggers community at indiblogger. I got to know so many people out there, it has been a wonderful experience to network with people from blogosphere not just from Bangalore but from all over India and across the border. In the last one year I have attended both the IndiBlogger meets in Bangalore. Also pretty regular in participating some of the contests this community has announced. Though I was a close competitor in some of the previous contests, this is the first maiden title! Albeit, I was outright disqualified in one of the contest for writing not in good spirits of the sponsor! If you are a regular reader, you would know which article I am talking about. Yes, that was on "Yougistaan ka Wow".
There is an ongoing campaign to bring in awareness on heart diseases by Apollo Hospitals called 'Billion Hearts Beating'. I took part in the campaign to share a real life experience and to pledge support for this cause by writing an article on this blog. That article has been voted by rest of the bloggers for title crown. As a winner of the contest, I will be flying to Mumbai on this Independence day to take part in "The Mumbai IndiBloggers Meet". Yet another opportunity to meet all those virtual friends from Mumbai, thanks to IndiBlogger. This is what the team says about "The IndiBlogger of the Month" crown:
"The IndiBlogger of the Month is awarded to a blogger who churns out great content, has a loyal fan base and who's dedication is an inspiration to all IndiBloggers."
Ah! what more can I ask for? Continue the hobby of blogging to share our thoughts and get rewarded once in a while like this for being associated with IndiBlogger community! If you are a blogger from India and not on IndiBlogger yet, I can say one thing for sure – You are definitely missing something! Go ahead and join the community and experience a new joy in blogging. Now, who all want to catch up with me this sunday in Mumbai?