As mentioned in one of my previous articles, here is the first article of a series of guest posts. Author of this article is Raghavendra Ijjada, has spent more than a decade in software industry after obtaining Masters in Engineering from IISc, Bangalore. He has recently developed the hobby of experimenting with Solar Energy and trying to bring it to the general public. He currently works for Yahoo! as an Engineering Manager.
What is Solar Electricity?
If you are living in any major Indian city like Bangalore, it is unlikely that you haven't seen a solar water heater working. It is a cool technology where 'Solar Thermal' energy is captured by a collector to heat water. There is another sexier way of using the energy from sun. This one is not by using the heat, but by converting light into electricity using silicon based panels. This electricity, called Photo Voltaic Energy, can be used to power several household/industrial appliances/equipment. This is the same technology that is used to power satellites.
Why Solar Electricity?
More than 80% of the electricity provided by the government/private power plants is produced by 'burning' fossil fuels/coal. Unfortunately, this is the cheapest option and the entire infrastructure is there to support this in a big way. Secondly, billions of liters of petrol/diesel and natural gas is getting burnt on the roads in our vehicles. Even if you use electric cars, most probably you are using the power generated by burning fossil fuels elsewhere.
Do you see that this makes our life miserable like a slow poison? Pollution (sickness), global warming and power cuts. The problem can only worsen over next few decades. Going this rate, we will make the lives of our future generations, more miserable. Other alternatives have their disadvantages too. Hydro Electricity is limited and has serious side effects on ecology. Nuclear power has the safety risks and the fuel used (Plutonium) is extremely rare – well, you have to import it.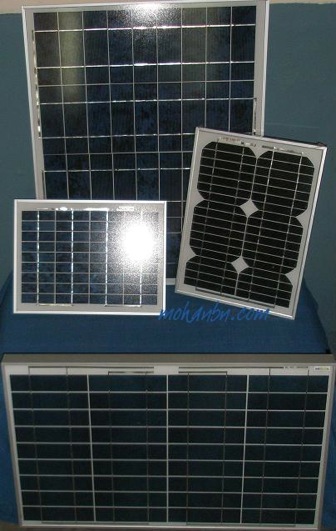 That leaves us with two 'clean' options: Solar and Wind Power. Both of them are non-polluting, no side effects and never ending. Generating wind power is bit tricky and involves lot of physical space & initial investment.
That leaves us with Solar Power, which can be produced literally anywhere in India throughout the year. There are
–    no moving parts involved
–    no sound
–    no by-products/pollution
–    no maintenance (except cleaning the dust once in a while)
–    no depreciation –  very long life of at least 25years once a panels is installed
–    and absolutely no side effects
The best part is that you can install a bunch of Solar Panels on your roof top and reduce/stop dependency on the power supplied by the Electricity Board (grid). Even further, you can start using solar power with a mere Rs.1K, just to power one table lamp.
What is stopping us from switching to Solar Power?
Well, if it is so great, why are we not using it left and right? Why don't major players switch to Solar? Why don't car manufacturers switch to Solar powered electric cars? There are three major reasons so far:
High initial investment: The solar panels cost anywhere between Rs.150-Rs.200/watt by the time they come to the end user. That is mainly because of the 'volumes' than anything else. It is coming down and you can expect it to come down by 50% in next 2 years. Remember that not too long back a (low powered) laptop used to cost a lakh. If you want to completely switch to Solar Power, it would cost anywhere between Rs.1-10L based on your usage. Luckily, unlike other technologies, we have the option of going granular, just one light at a time.
All the big people have already invested several billions in other technologies. For them, switching to a newer technology doesn't make any sense from financial perspective. This applies even to the government.
Lack of awareness: In coming 2-3 years, this would be the major reason why people don't use Solar Power. There are many ways this energy can be used, without investing lot of money.
Through this article, in next couple of postings, we would like to address this 3rd point. Instead of sitting and complaining, let us see how we can make some change in a meaningful way, without spending lot of time and money. Solar is one technology where India must lead. Watch out for the next post to know more details how we can effectively use the solar energy for our day to day needs.