The Higher Taste is an ISKCON shop that sells pastries, mithai and other organic products. Though this shop is in existence for more than 3 years now, I was not aware of it until one of my colleague recently boasted about the quality and the taste of various items sold here. That too when he mentioned the shop is associated with ISKCON (International Society for Krishna Consciousness), I was pretty sure about the food hygiene and it was only a matter of time before our entire group of office commute cab mates decided to visit the place.
This sweets shop is situated in Jayanagar 4th block, the heart of south Bangalore. To be precise, the shop is in the same building as that of Cafe Coffee Day on 9th Main, behind Jain Temple and opposite to RV College of Physiotherapy. Shop is open on all days between 10 am and 9 pm. The speciality of all delicacies sold here are prepared in sattvic (from sattva, the sanskrit word for 'pure') style, which is a pure, wholesome way of cooking according to certain 'Vedic' methods. It is prepared without the use of ingredients such as garlic, onion, eggs, caffeine and is never over spiced. Sattvic food when cooked according to the principles of the Vedas, sattvic food creates positive vibrations, cleansing both body and mind. Also, the origins of sattvic food lie in India's most sacred scripture 'The Bhagavad Geeta'.
As you enter the bakery, the first thing that notice is the free 'prasadam' at the cash counter. This is followed by an array of various indian sweets in all shapes and colors ranging from kaju, pista and badam sweets. If you get to visit, do check out the pastries and cakes. Don't miss the doughnuts and banana-walnut cakes which are my favorite! It goes without saying, all the items sold here are made eggless. Oh yeah, all the packed pastries have 'Use By' date to assure you of the best of quality and taste.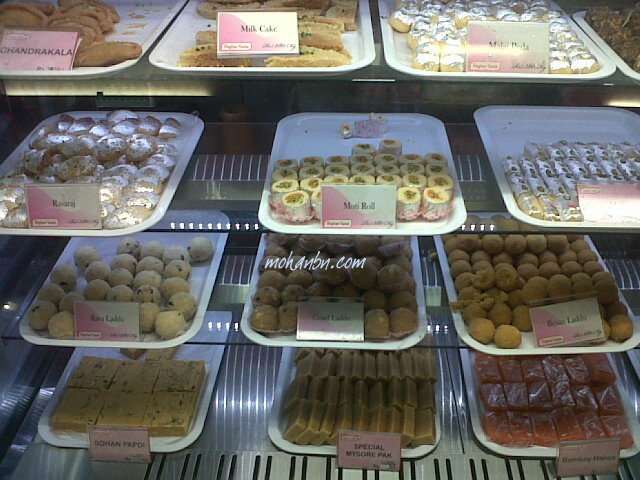 If you are calories conscious, there is a separate counter with low-calorie/sugar free sweets prepared using crystal fructose which is suitable for diabetics. Hence it becomes very tempting for all the foodies, living up to its reputation with its array of confectioneries and bakery items. You will be surprised to see the local favorites like chakli, nippattu, kodbale, veg puff, bread rolls, spinach and corn puff, cheese puff, kachori, samosa etc., The sweets sold here are garnished with 100% pure vegetarian silver varks and you can ask for the certificate if it sounds unbelievable.
I have become a fan of this store and we stop occasionally on our way back home for pleasing our taste buds, a STRONG recommendation from my side for sure!