Diwali is supposed to be festival of lights in India. However, off late things have gone awry on the whole meaning of this festival. Nowadays, it is more of all possible kinds of environmental pollution. All thanks to crackers! If you have not read this article about crackers and child labor behind that industry on my blog yet, read it now. As a customary caution, I am sharing this post with you all so that at least some amount of awareness will help towards eco-friendly celebrations of this festival.
Found this very intuitive and eye catching message poster shared on Facebook and re-sharing it here.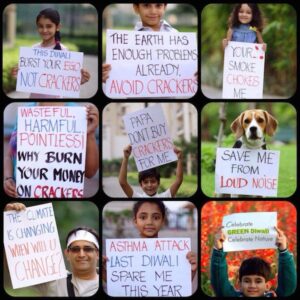 PS: This photo collage is NOT my work. Facebook share had a mention of 'Credits: Gurmeet Sapal'. Creative work & copyright remains with the creator who shared it initially on fb.
As always, scribbling something here without prior work is not my forte. Last year around the same time started investing in 'Rang De' with the money that I saved on crackers. It all started with as little as INR 2000/- last year for diwali, and today I am proud to say that my investment on rural entrepreneurs has increased multiple times. Here is the link for my complete Rang De portfolio of investment on such a great fantastic work that team is doing. Rang De's vision is to make poverty history in India by reaching out to underserved communities through microcredit. They are striving to do this through a network of committed field partners and social investors, by offering microcredit that has a positive impact on business, education, health and environment of the communities they work with. Feel feel to consider using the money you spend on crackers for something more meaningful that really lights up the lives of many around us. That would be the right way to celebrate Diwali.